Everything you need to know about a scholarship essay
July 9, 2020
A scholarship essay is a written piece of paper aiming to show the admission board that you are the right candidate for a scholarship. There may be thousands of applicants on a single place, so it's crucial to understand how a scholarship essay should look like.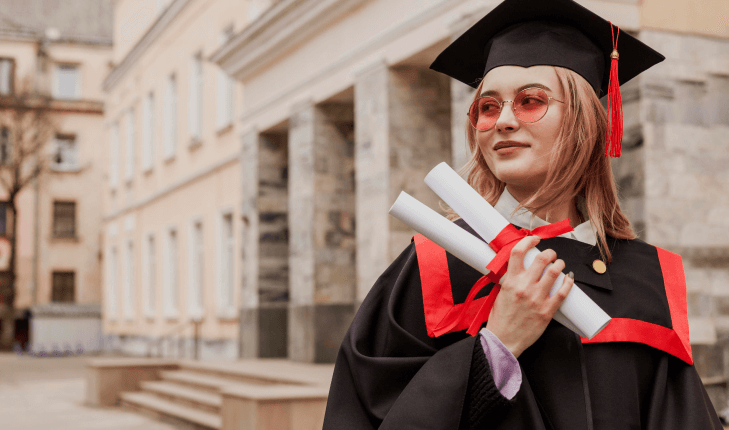 This brief but extremely important assignment should explain who you have been, who you're now, and what plans you have for the future. A scholarship essay shows what kind of student you are in the class and what person you are outside of it. Thus, your paper must explain why investing in you is a good idea.
In addition, a scholarship essay shows a part of your skills: how clear your language is, how confident you are, and how well you are able to organize thoughts. Everyone wants to spend the money with use, so the scholarship organization will pick a candidate very attentively.
Even if the above sounds too confusing and difficult, there's no need to panic. We have collected the most important tips on writing a scholarship essay and are ready to share them with you! And if you don't want to do the task on your own or want to be sure that the result will be perfect, our writers are always at your service!
Scholarship essay structure
As any other assignment, a scholarship essay consists of three main elements: introduction, where you shed light on who you are, body paragraphs with the main information, and conclusion, where you summarize everything. Below we'll discuss each of the elements in more detail!
Introduction
The main and actually the only aim of an introduction is to explain the goal of your scholarship essay and to make arguments. In this section, you should give background information needed to understand the body paragraphs of the essay.
This section allows being creative and grabbing the attention of the audience. Depending on the general tone of your scholarship essay, we recommend telling a funny story, sharing unknown facts, or asking a question. Grab and hold the attention of the audience, and they'll be waiting impatiently for the rest of the essay.
Once the background is provided, write a few sentences that will connect this background with the goal of the essay. For example, you can write, 'The mentioned story is important because it initiated the changes in my personality and influences my future' or 'You may be rather surprised when reading this statistic. Actually, I was horrified when I realized that this data affects all of us. That is why I decided to pick this topic for my essay'. These sentences explain to readers what makes your essay relevant.
Finish your introduction with an argument. Luckily, this is the simplest part. It is a sentence or two, which explains why you deserve the scholarship and are a better candidacy than the rest. For example, 'Because of all the changes in my life, I am looking forward to the new opportunities. I know that I will become an organic part of the college community and, in the future, will be able to help others.
Or something like 'All the changes I have made and all the lessons I have learned helped me to understand that more than anything else I want to be a doctor. This scholarship will allow me to become a pediatrician and to work in poor communities.'
Remember, this argument should relate to the information that you are going to provide in the body paragraphs. Voila, your introduction is ready!
Body paragraphs
Before writing the body paragraphs, come up with three-four arguments that you'd like to discuss in the future scholarship essay. Too little arguments will make the paper boring and too many – complicated. All arguments should respond to the given application prompt. Here are a few popular prompt examples:
Tell about the situations when you faced challenges and overcame them. Explain what lessons you have learned;
Describe goals for the future. Concentrate on three or four goals or steps that will help you to reach one goal. These will be your arguments;
Introduce readers to your journey and use three-four moments that made you who you are today.
Remember, every argument should be discussed in a separate paragraph. Each of which should begin with an introduction, the argument itself, and supportive information. Here are a few tips on how to succeed:
Always stay honest. We understand that you want to show the best of you and to beat other competitors, but lies always come out, so the best way to write a scholarship essay is, to be honest. Trust us; you have lots of unique traits of character that any admission team will notice;
Never use clichés! They are not only boring but kill any individuality. They don't tell anything specific about the reader and only occupy space. Instead, use original phrases and be as precise as possible. In addition, clichés can be detected as plagiarism if checked on specific software;
The words should be meaningful. Never repeat yourself or use pointless phrases just to occupy space. A scholarship essay mustn't be watery, and admission teams never read such papers till the end. Make sure to take enough time to find new and interesting information that can be shared with the readers;
Don't forget about transition words and phrases. They link paragraphs and make the text smooth and easy to read. There are lots of tables online, where you can find hundreds of transition words. Simply print them out or save on your personal computer.
Conclusion
This part of any essay or paper is often underestimated. Students think that nobody reads until the end, so it's pointless wasting your time. However, a scholarship essay is rather brief, and every section is a chance to make a positive impression.
Luckily, this part is nothing but the inverse of your introduction, and you should just restate why you are a good fit for the scholarship. But this doesn't mean that you need to cut and paste everything that you have written at the beginning.
The best way is to summarize body paragraphs and come up with a general conclusion. Then to remind the admission board why you are the best candidate. Explain what will happen if you receive the scholarship, how you'll use the money, how it will help your family, community, or even world.
If you notice that your scholarship is too long, start with cutting information from the introduction and conclusion. Body paragraphs remain the most important part and can't be shortened.
Writing tips for completing an A+ scholarship essay
So far, you already know what a scholarship essay is and what elements it should consist of. Don't worry if it sounds too complicated. Our writers took care of everything and made a list of the most important and useful tips that will help you create a strong and remarkable paper.
Start writing in advance
While some essays or reports can be written overnight, a scholarship essay takes time, so the earlier you start, the better the result will be. Start with planning and writing a calendar with every stage of the process and deadlines. Don't forget to indicate all the guidelines and requirements you're applying for.
Once you have enough time to brainstorm and prepare, you'll forget about stress and worries. And will be able to move at your own speed.
Know the audience you are referring to
The best way to meet the committee's expectations is to know what they are looking for. Thus, you should first understand what makes their perfect candidate and how you fit in. However, this doesn't mean that you have to forget about your inner voice and simply create a perfect picture for the admission board.
Your scholarship essay should be personalized and refer to aspects of your personality, not only the traits that the committee is looking for. However, there's nothing wrong with spicing up the essay with a few personal characteristics that are important for the admission board.
Accurately follow the guidelines and prompt
This is probably a rather obvious tip, but many students complete this mistake over and over again. They are so eager to start writing that they forget about reading the instructions attentively. Even exceeding the word count may harm the chances of being accepted, even if the essay is good.
Another important feature is to check whether your essay meets all requirements of the prompt and answers every question.
Choose a topic you are truly interested in
On the example of a Costco essay, you already know how important the topic selection can be. If you choose a general or boring topic, most likely, you'll bore the audience too. That is why your topic should be interesting for you and light your fire in a certain way.
Never write about the things that make you sleepy or bored. They will take away all the excitement and fun from
Scholarship essay topics
If you're stuck and not knowing what to write about, we've made a list of a few ideas that will help you to get started:
What is the strongest trait of your character? What makes you who you are? If your friends were to write the scholarship essay for you, what would they say?
If you are involved in any charity activity outside the classroom, tell about it. How it helps you? What are you planning to do to help the community in the future?
Do you have dreams about the future? If you think about ten or twenty years from now, what do you see?
Tell me about your biggest achievements and why do you think they are the most important;
Tell about the situation, when your view on a certain point or idea has changed once and for good;
If you could do anything at this very moment, what would it be? Tell about the things you love the most;
Write about your biggest failure. How it contributed to the personality you are today?
What made you a successful student/friend/child?
Describe the most challenging time of your life. Did it change after overcoming the difficulty?
Are there any books/ paintings/movies that have influenced your life? What makes them so important?
Is there any skill that differs from others? Tell me about it.
Order a scholarship essay at Mypaperswriting.com
A scholarship essay is an important assignment that greatly influences the decision of whether you'll be accepted to a college or university, or not. We understand that this paper can cause stress, insomnia, and anxiety. However, at Mypaperswriting.com, we have a perfect solution – order a scholarship essay, and we'll significantly increase your chances of receiving an invitation.
Moreover, we'll try to assign a writer who has graduated from the college or university of your dreams and knows everything about it. At Mypaperswriting you'll get academic assistance, 24/7 support, low prices, and outstanding quality.